Nuclear Industry Certified Quality
DNES has maintained an ASME Section III Accredited Quality System Certificate, manufacturing and supplying, since 1977 – the longest continually held certification in the industry.
We expanded our accreditation over 10 years ago to include fabrication per our N type certificates:
NPT #N-3165

NS #N-3278

NA #N-3584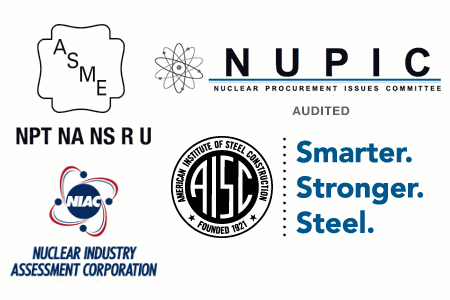 Call 910-590-2151
24/7 On-Call Emergency Service
Downtime is unacceptable. Whether you need a fabricated fitting, replacement part, piping or anything else we handle, DuBose National Energy Services is uniquely able to respond.
One of the reasons that we have added so many specialized services under one roof is to facilitate emergency orders. Trying to get one company to open up during weekends can be challenging, but trying to get MULTIPLE organizations mobilized can be nearly impossible. At DNES, when you say, "This is an emergency"- we take you seriously.
Give us a call and watch our "Fast Forward" emergency service go into action.

Nuclear Certified In-House Fabrication

Nuclear Certified Material In-Stock